2018 Nebula Awards®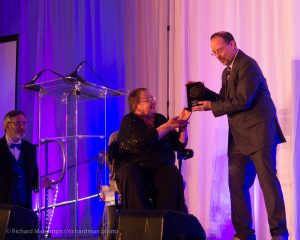 Presented at the Marriott Warner Center in Woodland Hills, CA on May 18, 2019
The SFWA Nebula Conference returned to the west coast for the first time since 2014 and to Los Angeles for the first time since 2009. The conference continued to expand popular programs such as the Mentor program, the Book Depot, the "Office hours" series of informal discussions, and the "Ignite Talks," which invited short, fast paced expert presentations on previously announced topics. This year boasted the largest Nebula Conference ever and space limitations required that membership be capped several weeks before the Conference took place and precluded at-the-door sales. Gay Haldeman again hosted a breakfast for writers' support teams. Programming took advantage of our proximity to Hollywood to include several screenwriters. Lunches sponsored in the hospitality suite by PublishDrive and Draft2Digital proved very popular.
The Nebula Award presentation was hosted by NASA systems engineer Bobak Ferdowsi, who came to national attention as "Mohawk Guy" following the landing of the Curiosity rover on Mars in 2012. Ferdowsi gave an entertaining talk on the tribulations of unmanned space exploration. A surprise presenter at the award ceremony was the appearance of R2D2 carrying the envelope that contained the name of the recipient of the Ray Bradbury Award for Outstanding Dramatic Presentation. This year's ceremony also saw the presentation of the inaugural Nebula Award for Best Game Writing.
This year's Conference also saw the introduction of some video content, with a screening of the documentary The Worlds of Ursula K. Le Guin, followed by a discussion and SFWA member Marc Scott Zicree showing the pilot for his series Space Command. The weekend ended with a mass watch party for the final episode of Game of Thrones.