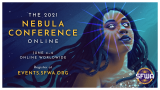 We're rapidly approaching the 2021 Nebula Conference and our next Airship Nebula voyage!

Are you looking to increase the visibility of your latest book release? Wishing for a private Zoom gathering with friends during the Nebula Awards ceremony or at any time over the weekend? Interested in getting your brand in front of hundreds of conference attendees?
We have a sponsorship option for you! Click here to learn about all the options on offer for this year's conference, from ads on the main landing page to sponsoring a panel or special gathering in the Hopkinson Suite of Zoom rooms. If you're interested, fill out this form or email sponsors@sfwa.org for details and reservations.
Share this opportunity with your publishers, agents, and other industry friends! Sponsorship is a great way to promote a book or podcast, get visibility for your business, or host a private gathering for fellow authors and clients. We'll work with you to create a package that fits your needs and budget.
Can't wait to hear from you!
The Nebula Sponsorship Team