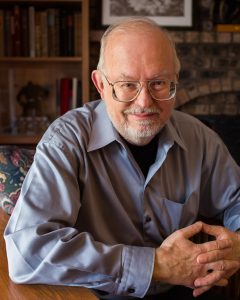 Photography by Bill Wadman
The literary achievements of Greg Bear (1951–2022), including over 50 books and multiple Nebula Awards and nominations, constitute a significant contribution to the science fiction and fantasy fields on their own. But Bear also spent decades building up the SFF community by volunteering his time and efforts to many different projects that left a mark. Those include his terms as vice president and president of SFWA, his time spent editing the SFWA Forum and the 2015 SFWA Nebula Showcase, his service on the board of advisors for the Museum of Science Fiction, and being part of the founding group of the Golden State Comic Book Convention, the predecessor to what is now known as the San Diego Comic-Con International.
Our November 2022 In Memoriam in honor of Bear attests to the lasting influence of his personal relationships with writers as well. In it, several SFWA past presidents comment on how he positively affected their lives and work.
SFWA President Jeffe Kennedy offered the following remarks on this year's recipients: "Congratulations to Cerece Rennie Murphy on her extraordinary contributions to the SFF community. We look forward to seeing what she'll do next. It's bittersweet to honor Greg Bear for the legacy of a lifetime, knowing how greatly he'll be missed."