Toni Weisskopf to receive the Kate Wilhelm Solstice Award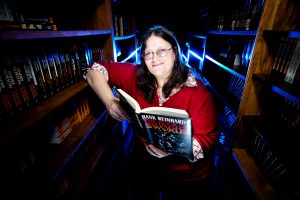 The Science Fiction and Fantasy Writers of America (SFWA) is pleased to announce that Toni Weisskopf has been named the recipient of the Kate Wilhelm Solstice Award to honor her activities in support of science fiction and fantasy.
The Kate Wilhelm Solstice Award is given by SFWA for distinguished contributions to the science fiction and fantasy community. Ms. Weisskopf joins the ranks of previous Solstice Award winners, including Octavia Butler, James Tiptree, Jr., Tom Doherty, Carl Sagan, and Stanley Schmidt. The award will be presented at the 52nd Annual Nebula Conference and Awards in Pittsburgh, PA May 18th-21st, 2017.
Toni Weisskopf has been the publisher of Baen Books since 2006 when she took over following the death of Jim Baen. During that time, Weisskopf has creative an innovative e-publishing program, worked with established authors, discovered a galaxy of new authors, and created the Jim Baen Memorial Short Story Award, the Baen Fantasy Adventure Award, and the Baen Best Military SF & Adventure SF Reader's Choice Award.
In addition to her current role as Baen Books editor and publisher, Ms. Weisskopf compiled Greasy Grimy Gopher Guts, along with Josepha Sherman, a collected of subversive children's folklore. She has edited several anthologies of science fiction, including Cosmic Tales: Adventures in Far Futures and Cosmic Tales: Adventures in Sol System.
Ms. Weisskopf has also been active in the fannish side of science fiction, co-chairing DeepSouthCon 50 in 2012, publishing the fanzine Yngvi is a Louse! And Other Graffitos, and serving as the official Editor of the SFPA, the Southern Fannish Press Alliance, and editing an history of Southern Fandom for the Southern Fandom Confederation.
Ms. Weisskopf joins Peggy Rae Sapienza, who was previously announced, as a recipient of this year's Kate Wilhelm Solstice Awards.
​The Nebula Awards® will be presented during the annual SFWA Nebula Conference, which will run from May 18th-21st and feature a series of seminars and panel discussions on the craft and business of writing, SFWA's annual business meeting, and receptions. On May 19th, a mass autograph session will take place at Pittsburgh Marriott City Center and is open to the public.
The Nebula Awards® recognize the best works of science fiction and fantasy published in the United States as selected by members of the Science Fiction and Fantasy Writers of America, membership in which is open to all professional science fiction and fantasy authors. The first Nebula Awards® were presented in 1966.
In addition to the Nebula Awards®, SFWA will present the Bradbury Award for Outstanding Dramatic Presentation, the Andre Norton Award for Outstanding Young Adult Science Fiction or Fantasy Book, the Kate Wilhelm Solstice Award, the Kevin O'Donnell, Jr. Service to SFWA Award, and the Damon Knight Memorial Grand Master Award.
For more information please email pr@sfwa.org.