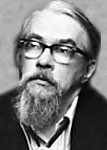 Lester del Rey
Named a Grand Master in 1990
Lester del Rey (June 2, 1915 – May 10, 1993) was an American science fiction author and editor. He was the author of many books in the juvenile Winston Science Fiction series, and the editor at Del Rey Books, the fantasy and science fiction imprint of Ballantine Books, along with his fourth wife Judy-Lynn del Rey.
In 1957, del Rey and Damon Knight co-edited a small amateur magazine named Science Fiction Forum. During a debate about symbolism within the magazine, del Rey accepted Knight's challenge to write an analysis of the James Blish story "Common Time" that showed the story was about a man eating a ham sandwich.
Del Rey was most successful editing with his fourth wife, Judy-Lynn del Rey, at Ballantine Books (as a Random House property, post-Ballantine) where they established the fantasy and science fiction imprint Del Rey Books in 1977. After science fiction gained respectability and began to be taught in classrooms, del Rey stated that academics interested in the genre should "get out of my Ghetto." Del Rey stated that "to develop science fiction had to remove itself from the usual critics who viewed it from the perspective of [the] mainstream, and who judged its worth largely on its mainstream values. As part of that mainstream, it would never have had the freedom to make the choices it did – many of them quite possibly wrong, but necessary for its development." For a number of years in the 1970s, Del Rey, himself, helmed the review column for Analog Science Fiction and Fact entitled The Reference Library.
Del Rey was awarded the 1972 E. E. Smith Memorial Award for Imaginative Fiction (the "Skylark") by the New England Science Fiction Association for "contributing significantly to science fiction, both through work in the field and by exemplifying the personal qualities that made the late "Doc" Smith well-loved by those who knew him." He also won a special 1985 Balrog Award for his contributions to fantasy, voted by fans and organized by Locus Magazine. The Science Fiction Writers of America named him its 11th SFWA Grand Master in 1990, presented 1991.