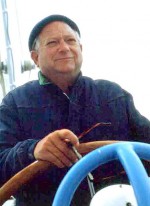 Jack Vance
Named a Grand Master in 1996
John Holbrook "Jack" Vance (August 28, 1916 – May 26, 2013) was an American mystery, fantasy, and science fiction writer. Though most of his work has been published under the name Jack Vance, he also wrote 11 mystery novels using his full name John Holbrook Vance, three under the pseudonym Ellery Queen, and one each using the pseudonyms Alan Wade, Peter Held, John van See, and Jay Kavanse.
Vance won the World Fantasy Award for Life Achievement in 1984 and he was a Guest of Honor at the 1992 World Science Fiction Convention in Orlando, Florida. The Science Fiction and Fantasy Writers of America made him its 14th Grand Master in 1997 and the Science Fiction Hall of Fame inducted him in 2001, its sixth class of two deceased and two living writers.
Among his awards for particular works were: Hugo Awards, in 1963 for The Dragon Masters, in 1967 for The Last Castle, and in 2010 for his memoir This is Me, Jack Vance!; a Nebula Award in 1966, also for The Last Castle; the Jupiter Award in 1975; the World Fantasy Award in 1990 for Lyonesse: Madouc. He also won an Edgar (the mystery equivalent of the Nebula) for the best first mystery novel in 1961 for The Man in the Cage.
A 2009 profile in The New York Times Magazine described Vance as "one of American literature's most distinctive and undervalued voices." He died at his home in Oakland, California on May 26, 2013, aged 96.