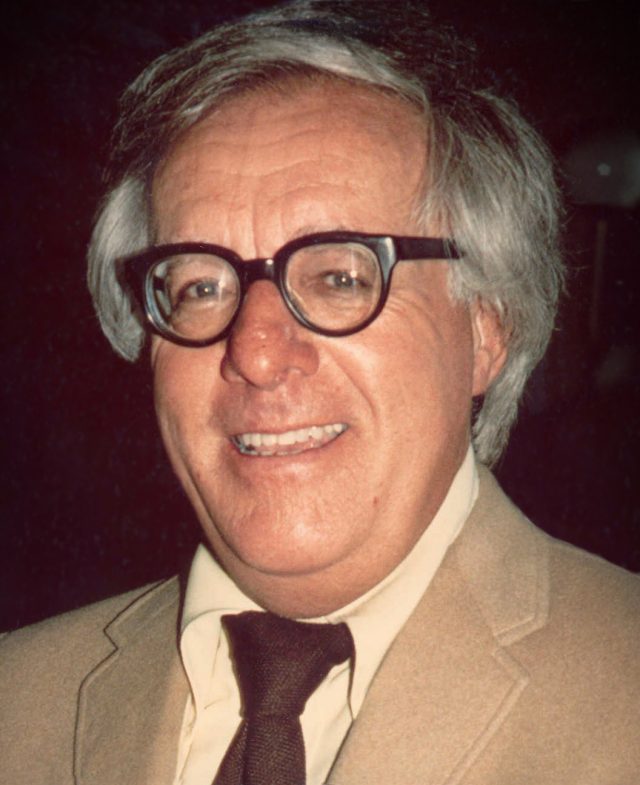 Ray Bradbury
Named a Grand Master in 1988
Ray Douglas Bradbury (August 22, 1920 – June 5, 2012) was an American fantasy, science fiction, horror and mystery fiction author. Best known for his dystopian novel Fahrenheit 451 (1953) and for the science fiction and horror stories gathered together as The Martian Chronicles (1950) and The Illustrated Man (1951), Bradbury was one of the most celebrated 20th-century American writers. He wrote and consulted on many screenplays and television scripts, including Moby Dick and most notably, It Came from Outer Space, and many of his works have been adapted into comic books, television shows, and films.
The Ray Bradbury Award for excellency in screenwriting was occasionally presented by the Science Fiction and Fantasy Writers of America – presented to six people on four occasions from 1992 to 2009. Beginning 2010, the Ray Bradbury Award for Outstanding Dramatic Presentation is presented annually according to Nebula Awards® rules and procedures, although it is not a Nebula Award. The revamped Bradbury Award replaced the Nebula Award for Best Script.
Bradbury received a World Fantasy Award for Life Achievement at the 1977 World Fantasy Convention and was named Gandalf Grand Master of Fantasy at the 1980 World Science Fiction Convention. In 1989 the Horror Writers Association gave him the fourth or fifth Bram Stoker Award for Lifetime Achievement in horror fiction and the Science Fiction Writers of America made him its 10th SFWA Grand Master. He won a First Fandom Hall of Fame Award in 1996 and the Science Fiction and Fantasy Hall of Fame inducted him in 1999, its fourth class of two deceased and two living writers.