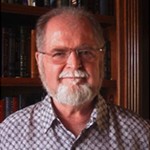 Larry Niven
Named a Grand Master in 2014
Laurence van Cott Niven (born April 30, 1938, in Los Angeles, California) is an American science fiction and fantasy writer and essayist who writes under the name Larry Niven. SFWA is pleased to award Larry Niven the Damon Knight Memorial Grand Master Award, one of SFWA's highest honors, for his invaluable contributions to the field of science fiction and fantasy. In addition to his contributions to the genre, Niven has influenced the fields of space exploration and technology. His iconic Ringworld is a classic of the genre, and influences readers and writers alike.
"One of the great honors of being SFWA president is the announcing the latest Grandmaster recipient. One of the drawbacks is only getting to name one at a time when we have several worthy candidates. I take great pleasure in naming Larry Niven as this year's Damon Knight Memorial Grandmaster.
"As Lev Grossman said in Time Magazine about Niven's work, "It's a bravura demonstration of technology and psychology both playing off and feeding back into each other. This feedback loop — so fundamental to great science fiction's power — is at the heart of Niven's work: we create tools, and our tools shape the world, but they also shape us, in unintended and unexpected ways." ~SFWA President Steven Gould
Niven has written fiction at every length, speculative articles, speeches for high schools and colleges and conventions, television scripts, political action in support of the conquest of space, graphic novels, and a couple of comic book universes. He's received multiple Hugo Awards, a Nebula Award, and many others.
"I've always wanted one of these. It does definitely mean I've gotten old.  I've been publishing fiction for more than fifty years now.  I'm convinced I picked the right career." ~Larry Niven