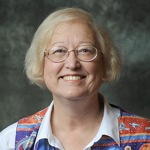 Connie Willis
Named a Grand Master in 2011
Constance Elaine Trimmer Willis (born December 31, 1945) is an American science fiction/fantasy writer. She has won eleven Hugo Awards and seven Nebula Awards® for particular works—more major awards than any other writer—most recently the year's "Best Novel" Hugo and Nebula Awards® for Blackout/All Clear (2010). She was inducted by the Science Fiction Hall of Fame in 2009 and the Science Fiction Writers of America named her its 28th SFWA Grand Master in 2011.
Several of her works feature time travel by history students at a faculty of the future University of Oxford—sometimes called the Time Travel series. They are the short story "Fire Watch" (1982, also in several anthologies and the 1985 collection of the same name), the novels Doomsday Book and To Say Nothing of the Dog (1992 and 1998), as well as the two-part novel Blackout/All Clear (2010). All four won the annual Hugo Award and all but To Say Nothing of the Dog won both the Hugo and Nebula Awards®.
Willis's first published story was "The Secret of Santa Titicaca" in Worlds of Fantasy, Winter 1970 (December). At least seven stories followed (1978–81) before her debut novel, Water Witch by Willis and Cynthia Felice, published by Ace Books in 1982. After receiving a National Endowment for the Arts grant that year, she left her teaching job and became a full-time writer.
Scholar Gary K. Wolfe has written, "Willis, the erstwhile stand-up superstar of SF conventions – having her as your MC is like getting Billy Crystal back as host of the Oscars – and the author of some of the field's funniest stories, is a woman of considerably greater complexity and gravity than her personal popularity reflects, and for all her facility at screwball comedy knock-offs and snappy parody, she wants us to know that she's a writer of some gravity as well."