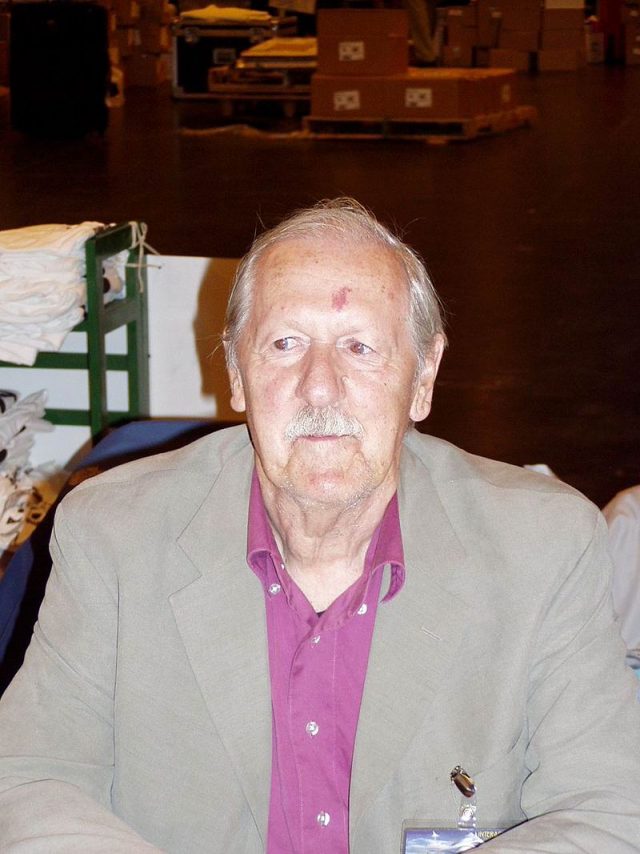 Brian Aldiss
Named a Grand Master in 1999
Brian Wilson Aldiss, OBE (18 August 1925 – 19 August 2017) was an English writer and anthologies editor, best known for science fiction novels and short stories. His byline read either Brian W. Aldiss or simply Brian Aldiss, except for occasional pseudonyms during the mid-1960s. Greatly influenced by science fiction pioneer H. G. Wells, Aldiss was a vice-president of the international H. G. Wells Society. He was also (with the late Harry Harrison) co-president of the Birmingham Science Fiction Group. Aldiss was named a Grand Master by the Science Fiction Writers of America in 2000 and inducted by the Science Fiction Hall of Fame in 2004. He received two Hugo Awards, one Nebula Award, and one John W. Campbell Memorial Award. His influential works include the short story "Super-Toys Last All Summer Long," the basis for the Stanley Kubrick-developed Steven Spielberg film A.I. Artificial Intelligence.
He was elected a Fellow of the Royal Society of Literature in 1990. Aldiss was the "Permanent Special Guest" at the annual International Conference on the Fantastic in the Arts (ICFA) from 1989 through 2008. He was also the Guest of Honor at the conventions in 1986 and 1999. The Science Fiction Writers of America made him its 18th SFWA Grand Master in 2000 and the Science Fiction and Fantasy Hall of Fame inducted him in 2004.
He was awarded the title of Officer of the Order of the British Empire (OBE) for services to literature in Queen Elizabeth II's Birthday Honours list, announced on 11 June 2005. In January 2007 he appeared on Desert Island Discs. His choice of record to "save" was Old Rivers sung by Walter Brennan, his choice of book was John Heilpern's biography of John Osborne, and his luxury a banjo. The full selection of eight favourite records is on the BBC website. On 1 July 2008 he was awarded an honorary doctorate by the University of Liverpool in recognition of his contribution to literature.