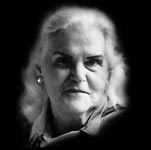 Anne McCaffrey
Named a Grand Master in 2004
Anne Inez McCaffrey (1 April 1926 – 21 November 2011) was an American-born Irish writer, best known for the Dragonriders of Pern science fiction series. Early in McCaffrey's 46-year career as a writer, she became the first woman to win a Hugo Award for fiction and the first to win a Nebula Award. Her 1978 novel The White Dragon became one of the first science-fiction books to appear on the New York Times Best Seller list.
In 2005 the Science Fiction and Fantasy Writers of America named McCaffrey its 22nd Grand Master, an annual award to living writers of fantasy and science fiction. She was inducted by the Science Fiction Hall of Fame on 17 June 2006.
In August 1987, Locus: The Magazine of the Science Fiction & Fantasy Field ranked two of the eight extant Pern novels among the "All-Time Best Fantasy Novels," based on a poll of subscribers; Dragonflight was 9th and The White Dragon 23rd. Commenting on the Locus list, David Pringle called them "arguably science fiction rather than fantasy proper" and named McCaffrey a "leading practitioner" of the planetary romance subgenre of science fiction.
McCaffrey considered most of her work science fiction and enjoyed "cutting them short when they call me a 'fantasy' writer." All the Pern books may be considered science fiction, since the dragons were genetically engineered by the Pern colonists. Regarding science, she said "I don't keep up with developments, but I do find an expert in any field in which I must explain myself and the science involved." Astronomer Steven Beard often helped with science questions, and McCaffrey acknowledged reproductive biologist Jack Cohen several times.
The Science Fiction Hall of Fame citation of Anne McCaffrey summarises her genre as "science fiction, though tinged with the tone and instruments of fantasy," and her reputation as "a writer of romantic, heightened tales of adventure explicitly designed to appeal—and to make good sense to—a predominantly female adolescent audience."
McCaffrey said in 2000, "There are no demographics on my books which indicate the readers are predominately of an age or sex group. Dragons have a universal appeal!"
In 1999, the American Library Association gave McCaffrey the 11th Margaret A. Edwards Award for lifetime achievement in writing for teens. The librarians credited her with "over 50 novels for young adults and adults" and cited seven published from 1968 to 1979 for the "significant and lasting contribution to young adult literature" that the award features: The Ship Who Sang (1969) and the first six Pern books (those sometimes called the "original trilogy" and the "Harper Hall trilogy"). The panel chair observed that "McCaffrey's focus on the personal and emotional need of human beings mirrors the quest of today's teens to find their own place in society."