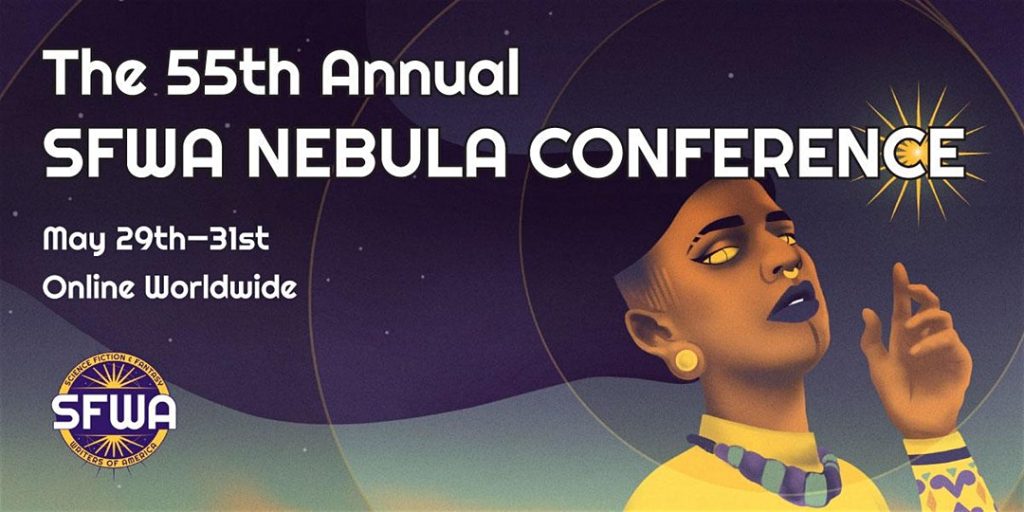 Looking forward to the 2020 Nebula Conference? We are, too! To whet your appetite, our programming team has prepared a sample of panels you can look forward to in May. Though these items are neither comprehensive nor final, they represent the well-rounded, professional experience we're aiming for.
1. So… What's A Virtual Conference Anyway?
The SFF writing community, along with the rest of the world, has largely shifted online in 2020. How can you make the most of this changed landscape, starting with the 2020 Nebula Conference Online? In this panel, writers, editors, and agents offer encouragement and insight into how to get the most out of a virtual conference, what networking means now, and what resources are available to writers who are physically distancing but want to remain professionally and socially engaged with the industry after the conference is over.
2. Being a Creative in 2020: Building Community, Visibility, and Audience in a Virtual World
With so much changing in the SFF community this year, how can you find your people, promote your work, and connect with readers? Writers discuss how to build and maintain professional community at a distance, publicize new work online, navigate the world of traditional and independent publishing as we all adjust to a new reality, and prepare for any shifts to the industry that the end of the immediate crisis may bring.
3. Blades and Badasses: Disability and Swordwork
The fantasy genre is filled with dashing knights in shining armor, ready to battle at a moment's notice. However, when characters with disabilities take up the blade, too often their skills are augmented by magic or miracles. Is it too impossible to imagine a disabled swordswoman succeeding without magic? Here, disabled sword experts discuss the details of swordplay and how to depict realistic sword fighting scenes inclusive of all abilities.
4. Urban Development: The Evolution of Cities in the 21st Century and Beyond
Throughout history, cities across the world have transformed in response to societal, economic, and technological shifts—and have sometimes been the drivers of these changes themselves. How will cities continue to change over the next 100 years? What trends do we already see and where are they heading? How will these shifts impact our society as a whole, and how might that affect the worlds we build in our fiction?
5. Managing Choice in Games and Interactive Fiction
In many games, players expect to steer the story by making choices. But each decision can create new story or dialogue branches, which can ripple into a writhing mass of near-infinite possibilities. So how do you make choices meaningful without letting your project spiral out of control? A panel of professional game makers talk about their approach to choice, what they've seen in their own and other games, and what new approaches we can learn from for the future.
6. Crowdfunding for Authors
Want to crowdfund, but don't know where to start? This panel will cover all the basics, including selecting a platform and developing a budget, pre-launch strategies, and developing and promoting an effective crowdfunding page.
7. Plantsing: Strategies from Plotting & Pantsing to Get You to "The End"
How do you shape your story? Do you outline everything down to the scene level, run straight into the abyss with abandon, or something in-between? Join a panel of plotters and pantsers as they share their writing processes, the pros and cons of each style, and what each group can learn from each other.
8. Publishing SFF Romance: Pick a Seat, Not a Side
When your book straddles two popular genres, how do you determine which way to publish? Differences between the Romance and SFF ecosystems can mean different work and trajectories for your career. On this panel, authors experienced in SFF and Romance discuss how marketing and publicity, publication schedule, readership, and more differ depending on the genre an author chooses, and whether they even have to.
9. Making Video for Authors
From YouTube to Instagram, authors are learning how to meet readers in all new ways. Authors with a variety of experiences in creating video discuss making video to support your author career, from brand development to content marketing to community development and management. Whether you want to create a how-to-write video series, vlog to increase reader engagement with you as a creator, share your passions with a wider audience, or understand the pros and cons of existing platforms and their book-related communities, there's something here for you.
10. Who and Where I Am: Rooting Writing in Place and Identity
We all come from somewhere, but how do the places and cultures that have helped to shape our identities show up on the page? In this panel, a diverse group of writers shares their techniques for drawing from their geographic and cultural backgrounds to craft story, setting, and voice.
11. Writing for Comics and Graphic Novels: Process and Collaboration
Writing for comics involves more than creating a good script: it requires intense collaboration with artists and a workflow that differs significantly from prose writing. In this conversation, we offer tips for prose authors interested in transitioning into comics, focusing on common pitfalls, keys to scriptwriting, and most importantly, how to be a good collaborator. Comic artists, editors, and writers explain the mechanisms of comics publishing and how all creators involved can make processes and timelines run more smoothly.
12. Writing Middle Grade with This Year's Norton Award Nominees
Several of this year's Norton Award nominees discuss the changing role of science fiction and fantasy within the middle grade field. What works and what doesn't? What unique challenges do speculative writers face in this market? What trend or themes are coming next?
13. School Visits and Presentations: Brick-and-Mortar Tours, Virtual Visits, and Everything In Between
School visits and presentations are a common way authors supplement their income—especially for those writing YA and MG—but best practices are not always clear, especially in a year when many school systems are closed for safety reasons. On this panel, authors discuss the mechanics of school events, including methods of preparation, how to choose engaging content, what to charge, how to adjust to a virtual reality, and more.
14. Writing Intersectional Characters in SFF
Because history is often recorded and fictionalized through the lens of the dominant culture, the perspectives of marginalized people can be flattened, misunderstood, or lost altogether. This is especially the case for characters who exist in the intersection of multiple cultures, identities, or marginalizations. How can fantasy and science fiction avoid these pitfalls and create rich characters who have layered identities? In this panel, authors talk about building intersectional character experiences into their world building and overall craft.
15. Managing Multiple Writing Projects and More
To have a career, authors are often required to manage multiple projects, deadlines, and ancillary activities like marketing and promotion, not to mention freelancing or full-time work as well as personal obligations. In this panel, writers who are successfully juggling multiple writing responsibilities talk about how to keep multiple projects on time and manage the chaos, as well as when and how to ask for help.